Description
TXG Cooling Arm Sleeves Series
TXG Arm Sleeves provide UV protection, and arm muscle support to reduce the risk of injury during intense activities involving the arms and hands.
TXG unique designs :
Extra-wide cuff to prevent skin abrasion.

Moisture absorption and high-wicking

An extra layer of gradient compression protection against muscle groups

Ideal for:
Sports, Weight Lifting, Golf, Cycling, Adhesive Capsulitis (Frozen Shoulders)
Our arm sleeves for men or women offer complete protection for a range of uses, including; tattoo cover-up sleeves, compression sleeves, running arm sleeves, football sleeves, arm warmers for women or men, and even as a shooting sleeve or basketball arm sleeve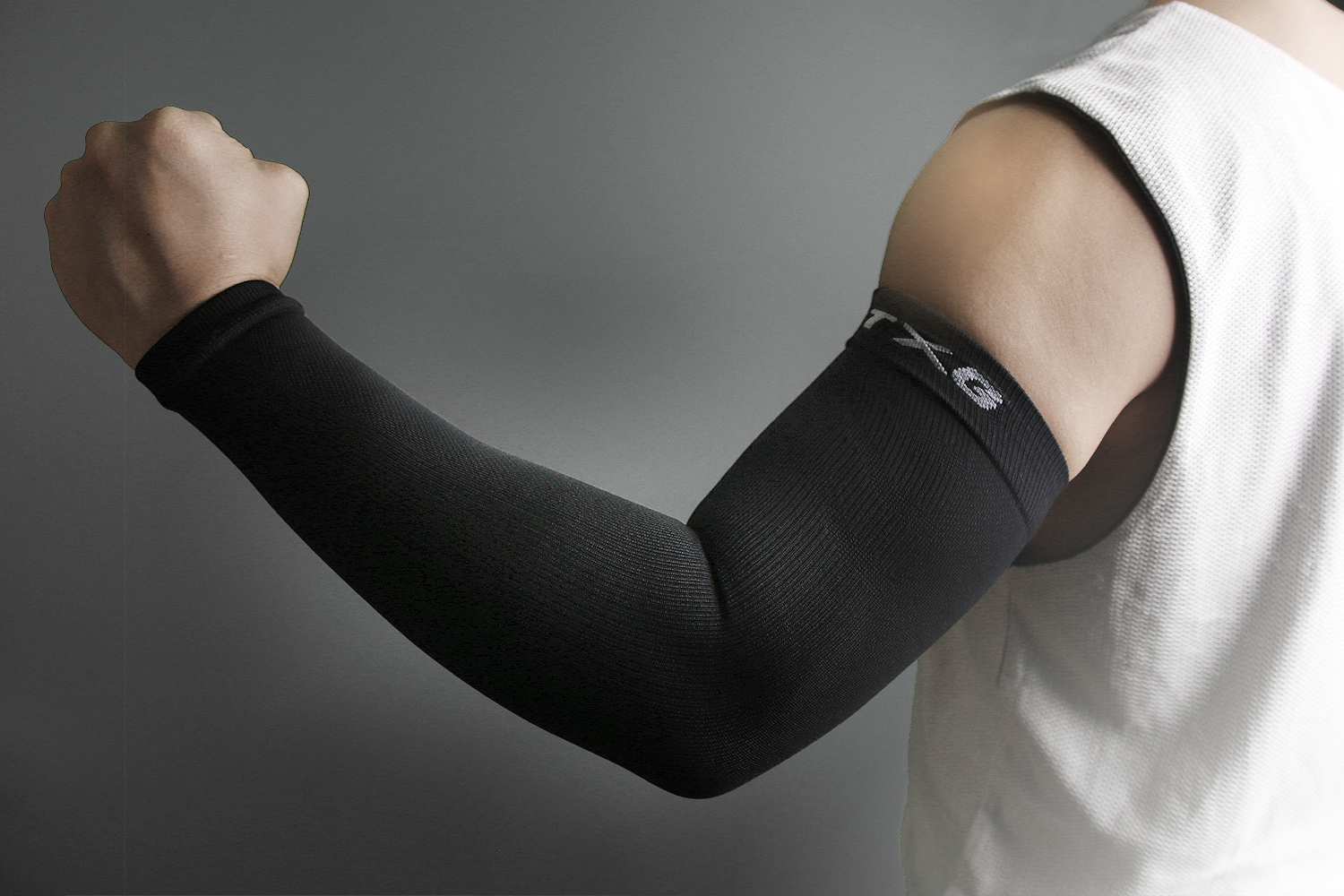 Are these the new age IMPRESSION arm sleeves?
Gone are the times when Compression Arm sleeves- were viewed as medicinal products. We have mastered the art of combining fashion, technology, and science to bring you comfort. Our Compression arm sleeves are designed to be the newest on the market while providing greater comfort & cooling with breathable and moisture-absorbent material.
---

PROTECTION:
Each compression sleeve arm protector is made from UV-resistant material, our arm sleeves for women or men offer sun protection; in colder months they make fantastic arm warmers
COMFORT:
Our arm sleeves don't have weird stitching in uncomfortable places like other inferior sleeves to cover arms; each arm sleeve has been carefully crafted to stay in place and not rub, slip or annoy you

Three- Dimensional (3D) Seamless Weaving Design to make more comfortable than others.
Unlike other sun sleeves that make you itchy and leave imprints all over your arms, these compression arm sleeves are seamless. We make sure you'll be comfortable and happy.
Extremely Elastic Material Cooling Arm Sleeves. Cooler than Bare Skin. Perfect for All Outdoor & Indoor Activities even Work-space. 

---
Available colors:
Black
Compression levels: 
10-15mmHg Gentle
Compositions:
 90% Aquatimo hydrophilic Nylon 10%Spandex (Lycra®) / Made in Taiwan
Aquatimo hydrophilic Nylon

Aquatimo fast dry, cooling fabric, quickly whisks away heat and moisture to help the body maintain optimal temperature during exercise.

Micro Nylon

Smooth to the touch, light, high elasticity, tensility, and less prone to abrasion.
Lycra
First developed by DuPont, Lycra has a number of advantages besides being able to stretch, such as being more lightweight, comfortable and breathable, not to mention quick drying. Our compression socks come with a Lycra certified tag, in compliance with international gradient compression standards.

BEATING OUT THE COMPETITION

our compression arm sleeves' material is upgraded with Aquatimo Cooling nylon percentage 90%. Breathable high-performance fabric maintains an optimal temperature. moisture for the maximum level of comfort. Our compression sleeves will bring the most comfortable feeling to you.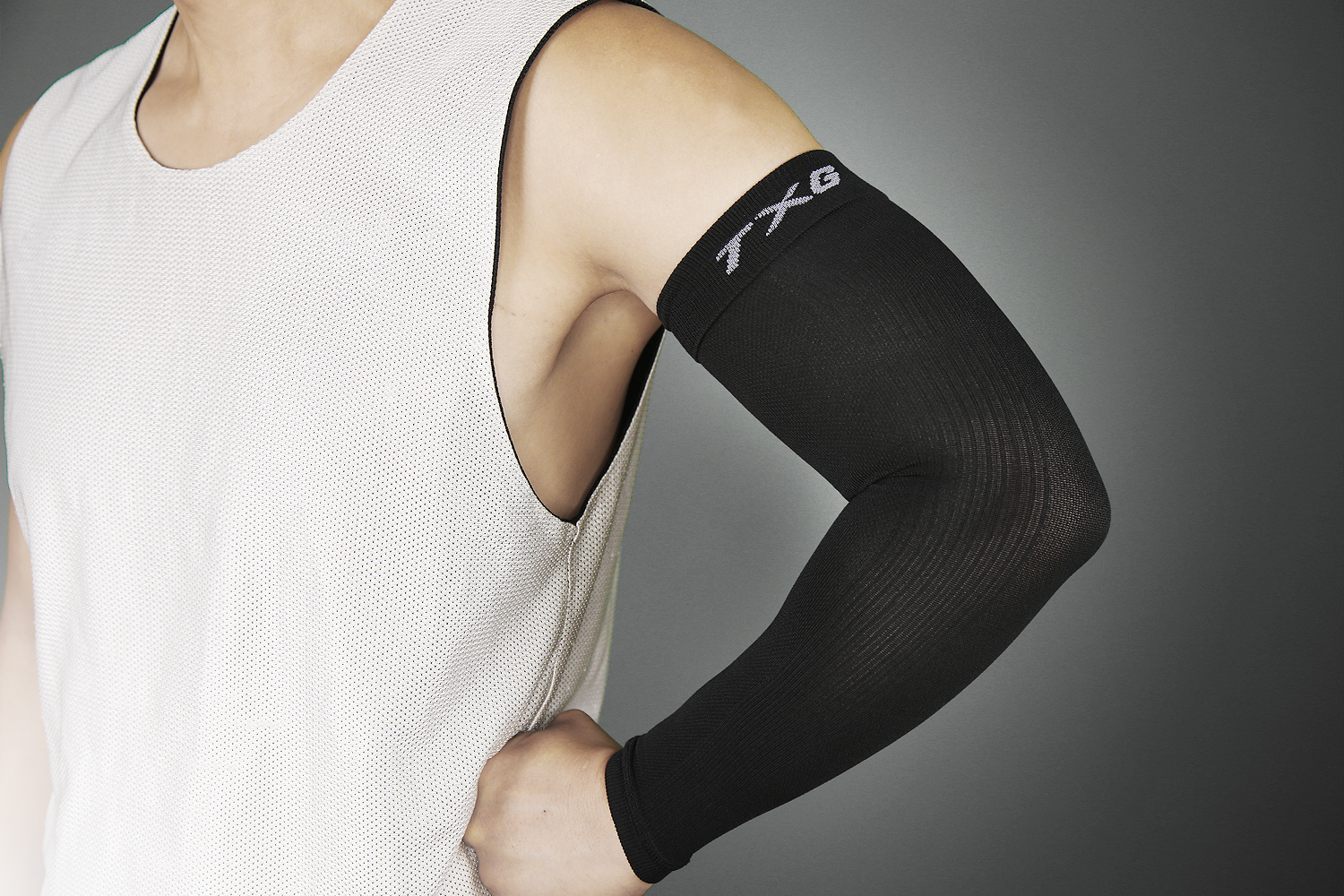 ---

VERSATILE:
Sleeves act as arm warmers for running and cycling in cool weather. Ideal for wearing as a medical compression sleeve for muscle and joint support to reduce swelling. Can also be used as an arm cover to hide tattoos.
DURABLE ARM / ELBOW COMPRESSION SLEEVE:
The forearm sleeve supports tired, sore, or injured muscles & is backed by superior quality. Ideal for use as an arm support sleeve for any activity.
PROTECTION:
TXG Arm sleeves apply stable pressure across your elbow joint. Offers optimal muscle support between workouts and during casual everyday activities. With our sleeve, you'll be able to tackle any activity life throws your way while ensuring you're a step ahead in injury prevention!
Size :
Purchase a size down from our size chart for added compression.
| | | | | |
| --- | --- | --- | --- | --- |
| | S | M | L | XL |
| Biceps | 20-23cm | 24-27cm | 28-31cm | 31-34cm |
| Forearm | 17-20cm | 21-24cm | 25-28cm | 28-31cm |
---
Attention before wearing compression socks: Compression wears should not be worn if you have been diagnosed with any of these conditions:
● Congestive heart failure
● Advanced arterial disease
● Severe deep venous thrombosis
● Inflammation due to bacterial infection
Please consult with your doctor about whether compression stockings are for you if the following conditions apply:
● Sensitive skin
● Skin infections
● Atopic dermatitis
● Neuropathy or insensitivity
● Physical immobility